William G. Characklis
CBE Founder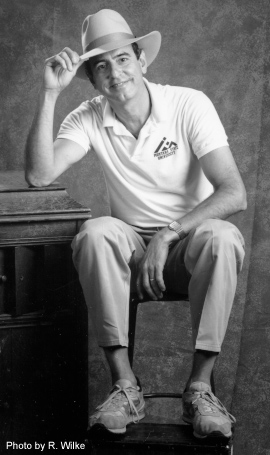 "A vision without a task is a dream.
A task without a vision is drudgery.
A vision and a task is the hope of the world."

Anonymous, 1730
"Just do it."

slogan for Nike
The Center for Biofilm Engineering (originally named the Center for Interfacial Microbial Process Engineering) started with the visionary leadership of W.G. (Bill) Characklis. Bill's vision, hard work, and emphasis on teamwork produced an innovative program based on industry/university cooperation—applying multidisciplinary research teamwork to address industrial concerns.
When the CBE was established in 1990, with a grant from the National Science Foundation's Engineering Research Centers Program, it was the largest single grant in Montana University System history, and MSU was one of only three universities nation-wide to be awarded ERC funding that year.
The son of working-class Greek immigrants, Bill was the first member of his family to graduate from college—with a BS in Chemical Engineering from the Johns Hopkins University, a masters degree from the University of Toledo, and a PhD in Environmental Engineering (with minors in chemical engineering, biochemistry, and statistics) from Johns Hopkins. Between his undergraduate and graduate studies, Bill worked for a year with Olin Mathesen Chemical in New Haven, Connecticut, where he had his first fateful encounters with what has widely become known as "biofilm."
Bill's teaching career began at Rice University in Houston, where he built a strong professional reputation. In 1979 he left Rice in search of a "laid-back" Montana lifestyle at MSU–Bozeman. His insatiable hunger for knowledge, his tireless pace, and his penchant for building a research "family" of a diverse and talented group of engineers, microbiologists, and chemists brought increasing national and world recognition to the biofilm work being done in the "Siberia" of the US, culminating in the founding of the Center.
Bill led the Center for two years before dying in 1992 from malignant lymphoma at the age of 50. The legacy of dedication, enthusiasm and teamwork that he left his colleagues still inspires the students, staff, and faculty at the CBE, and is recognized in the annual W.G. Characklis Award, given to one or more outstanding CBE students.
"He was a larger-than-life man with irrepressible energy and a remarkable imagination. He built the engineering research center into a world class facility..."

President Mike Malone, MSU–Bozeman.