John Neuman Memorial Gift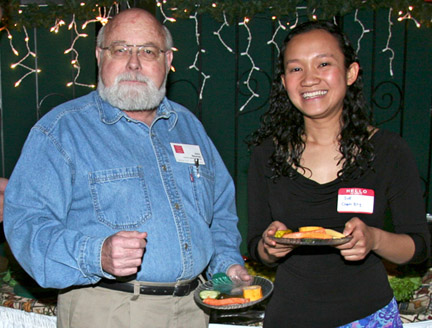 The family of John Neuman has set up a fund in support of student research at the CBE in John's memory. An enduring friend and supporter of the CBE, John was the CBE's Technical Operations Manager for 14 years (1994-2008); he passed away February 20, 2011.
The CBE Student Citizen Award has been instituted by the CBE in John's honor. This annual award recognizes a student who exhibits exceptional responsibility and good citizenship in his or her work at the CBE. Attributes that are considered in selecting awardees include: attention to laboratory safety and cleanliness, considerate use of shared spaces, respect for equipment and proper protocols, willingness to help fellow students and staff, strong work ethic, and commitment to CBE goals. John worked tirelessly to instill these values in all of the students he interacted with and mentored.
The CBE is appreciative of this initiative to support MSU students who pursue their education through interdisciplinary biofilm projects in the Center for Biofilm Engineering. It is particularly appropriate because of John's unflagging commitment to helping Montana State University students navigate the sometimes tricky waters of experimental research and early adulthood. His mark on all at the CBE was huge, and we are pleased to see his legacy continue to reach future students through this fund.
People wishing to contribute to the fund may do so either with a check or online, through the MSU Foundation web site.
Check-writing instructions
Checks should be made payable to "MSU Foundation" and note on the check: "In memory of John Neuman."

Checks should be sent to:
Montana State University Foundation
1501 S. 11th Avenue, PO Box 172750
Bozeman, MT 59717
Online instructions
To make an online donation to the Center for Biofilm Engineering in memory of John Neuman, you may do so through the Montana State University Foundation website
Step 1: Ways to Give
Click on the link Donate to MSU on the left sidebar. In the Search box type "College of Engineering" and then click on General Scholarships and then click the arrow Proceed to Next Steps. Enter the $amount you wish to donate, and type "Center for Biofilm Engineering" in the box provided for gift notes.

Step 2: Your information
Enter your information in the boxes provided.
Step 3: Tribute
Click on the drop arrow on the right to Make your gift in Memory Of a deceased individual. In the area provided, enter:
First Name: John
Last Name: Neuman
No other entries are required in this section. Notifications of the gift will automatically be sent to the CBE and to the Neuman family.

Step 4: Updated Matching Employer
This step is optional and does not apply, so skip it.

Choose Next at the bottom of the page and proceed to the payment information.


Learn more about John Neuman and his contributions to the CBE.
View past recipients of the John Neuman Student Lab Citizen Award