Richards, Abbie
Department Head, Chemical and Biological Engineering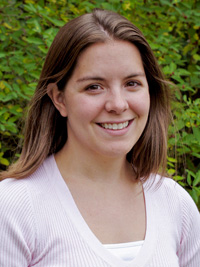 Office: 313 Cobleigh Hall
Specialty: Environmental biotechnology
E-mail: arichards@montana.edu
Dr. Richards' research involves biofilm growth in extreme environments and exploring ways that microbes might be used to clean contaminated soils. She earned her doctorate in chemical engineering from Washington State University in 2007.
Research Interests
Siderophores; iron acquisition mechanisms of microbes in saline and alkaline environments; iron-mediated assembly of amphiphilic siderophore micelles and vesicles.




Undergraduate student identity formation and persistence in engineering.
Awards
MSU's Inaugural Spirit of Discovery Award for faculty, January 13, 2015
Excellence in Advising Award from MSU's College of Engineering for 2012-13 academic year
2012 National Outstanding Advisor from the engineering honor society Tau Beta Pi
Excellence in Teaching Award from MSU's College of Engineering for 2011-12 academic year
Biofilm related publications searchable by author via CBE Publications Database
Related links:
"MSU faculty member wins fellowship in national program to develop more inclusive and diverse STEM leadership" MSU News August 23, 2019