Espinosa Ortiz, Erika
Assistant Research Professor, Chemical & Biological Engineering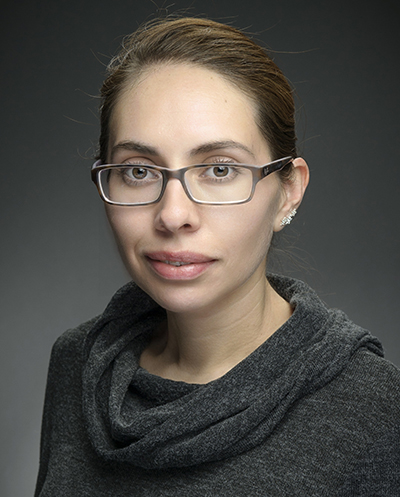 Office: 306 Barnard Hall
Specialty: Fungal & algal biofilms
E-mail: erika.espinosaortiz@montana.edu
Professional Preparation
Ph.D., Environmental Technologies for Contaminated Solids, Soils and Sediments
Erasmus Mundus Joint Doctorate Program, 2015
UNESCO‐IHE (The Netherlands), Paris‐Est (France),
University of Cassino (Italy)
Research: Bioreduction of selenite and tellurite by Phanerochaete chrysosporium: applications in wastewater treatment
M. Sc., Ecological Sciences and Engineering, 2010
Purdue University (USA)
Research: Ecotoxicological assessment of gallium and indium on soil microbial activity, seed germination and root growth
M. Sc., Environmental Engineering, 2009
National Autonomous University of Mexico
Research: Biological contamination of source water supplies in Tula Valley, Hgo. Mex
Research Interest
Fungal-based technologies for water, wastewater and soil remediation

Biodeterioration of building materials due to multi-domain biofilm formation

Biomineralization processes applied to the medical field (e.g. formation of kidney stones induced by urinary tract infections)
Selected publications
Mitchell, Andrew C., Erika J. Espinosa-Ortiz, Stacy L. Parks, Adrienne J. Phillips, Alfred B. Cunningham, Robin Gerlach, "Kinetics of Calcite Precipitation by Ureolytic Bacteria under Aerobic and Anaerobic Conditions," Biogeosciences, May 2019, 16:2147-2161.
Espinosa-Ortiz, Erika J., Brian H. Eisner, Dirk Lange, and Robin Gerlach, "Current insights into the mechanisms and management of infection stones," Nature Reviews Urology, November 2018, 16: 35-53.
Tan, Lea Chua, Erika J. Espinosa‐Ortiz, Yarlagadda V. Nancharaiah, Eric D. van Hullebusch, Robin Gerlach, and Piet N. L. Lens, "Selenate removal in biofilm systems: effect of nitrate and sulfate on selenium removal efficiency, biofilm structure and microbial community," J Chem Technol Biotechnol, 2018;93: 2380–2389.
Espinosa-Ortiz, EJ, Pechaud Y, Lauchnor E, Eldon RR, Gerlach R, Peyton BM, van Hullebusch ED , Lens PNL. "Effect of Selenite on the Morphology and Respiratory Activity of Phanerochaete Chrysosporium Biofilms," Bioresource Technology 210 (June 2016): 138–145.
Additional biofilm publications searchable by author via CBE Publications
Radio
"MSU researchers exploring cement alternative using fungi, bacteria" Yellowstone Public Radio, Feb. 24, 2021
Related News
"Five CBE faculty, staff garner awards during NACOE's virtual ceremony" MSU News May 17, 2021
"Yellowstone Public Radio features CBE project on sustainable concrete" MSU News March 16, 2021
"Optimizing the bioconversion and recycling of inedible plant waste using mixed microbial cultures for long-term human habitation in space" Montana NASA EPSCoR
"MSU researchers receive $500,000 grant to make fungus-based building material" MSU News Oct. 6, 2020
"Three MSU research teams set to improve water quality with new funding" MSU News, Feb. 19, 2020