Carlson, Ross
Professor, Chemical and Biological Engineering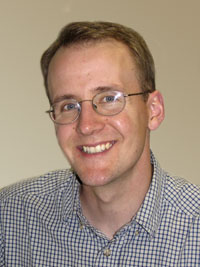 Office: 315 Cobleigh Hall
Specialty: Metabolic engineering, metabolic networks; chronic wounds
E-mail: rossc@montana.edu
Highest Degree
PhD, Chemical Engineering, University of Minnesota, Twin Cities, 2003
Selected Publications
Carlson, R.P. (2009) Decomposition of complex microbial behaviors into resource-based stresses. Bioinformatics. 25:90-97.
Carlson, R.P., Taffs, R., Davison, W.M., Stewart, P.S. (2008) Anti-biofilm properties of chitosan coated surfaces. Journal of Biomaterials Science: Polymer Edition. 19:1035-1046.
Carlson, R.P. (2007) Metabolic systems cost-benefit analysis for interpreting network structure and regulation. Bioinformatics. 23:1258-1264.
Carlson, R., Srienc, F. (2006) Gene dosage effects on polyhydroxyalkanoate production in Saccharomyces cerevisiae. Journal of Biotechnology. 124:561-573.
Carlson, R., Wlaschin, A., Srienc, F. (2005) Kinetic studies and biochemical pathway analysis of anaerobic poly(R)-3-hydroxybutyric acid synthesis in Escherichia coli. Applied and Environmental Microbiology. 71:713-720.


Dr. Carlson's CV
Additional biofilm related publications searchable via the CBE Publications Database
Related News
MSU News Service February 12, 2019 "MSU algae research could make biofuel production more economical"
MSU News Service October 18, 2017 "MSU researchers receive $1.8 million to study methane-converting microbes"
MSU News Service October 25, 2016 "MSU engineering professor awarded U.S. Army Research Office grant"