Carlson, Ross
Professor, Chemical and Biological Engineering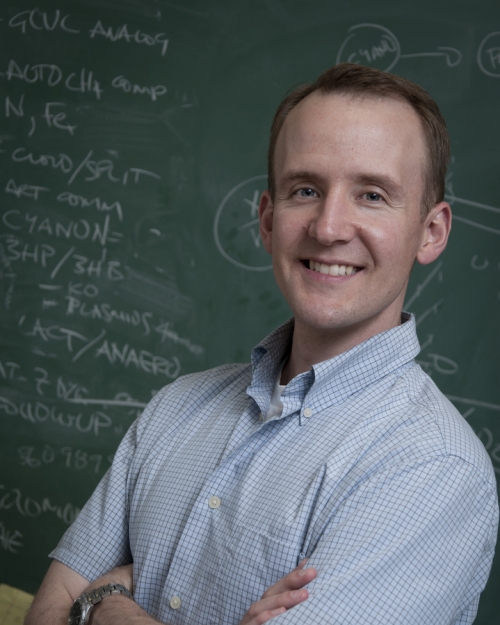 Office: 315 Cobleigh Hall
Specialty: Metabolic engineering, metabolic networks; chronic wounds
E-mail: rossc@montana.edu
Highest Degree
PhD, Chemical Engineering, University of Minnesota, Twin Cities, 2003
Selected Publications
McGill, S.L.,Yung, Y., Hunt, K.A., Henson, M.A., Hanley, L., Carlson, R.P. (2021) Pseudomonas aeruginosa reverse diauxie is a multidimensional, optimized, resource utilization strategy. Scientific Reports. 11, 1457.
Hammarlund, S.P., Gedeon, T., Carlson, R.P., Harcombe, W. (2021) Limitation by a shared mutualist promotes coexistence of multiple competing partners. Nature Communications. 12, 619.

Park, H., Patel, A., Hunt, K.A., Henson, M.A., Carlson, R. P. (2020) Artificial consortium demonstrates emergent properties of enhanced cellulosic-sugar degradation and biofuel synthesis

.

npj Biofilms Microbiomes. 6, 59.
Jay, Z.J., Hunt, K.A. Chou, K.J., Schut, G.J., Maness, P.C., Adams, M.W.W., Carlson, R.P. (2020) Integrated thermodynamic analysis of electron bifurcating [FeFe]-hydrogenase to inform anaerobic metabolism and H2 production. Biochemica Biophysica Acta Bioenergetics. 1861; 148087.
Park, H., McGill, S.L., Arnold, A. D., Carlson, R.P. (2020) Pseudomonad reverse carbon catabolite repression, interspecies metabolite exchange, and consortial division of labor. Cellular and Molecular Life Sciences. 77, 395-413.
Yung, Y., McGill, S.L., Chen, H., Carlson, R.P., Hanley, L. (2019) Reverse Diauxie Phenotype in Pseudomonas aeruginosa Biofilm Revealed by Exometabolomics and Label-Free Proteomics. npj Biofilms and Microbiomes. 5, 31.

Schepens, D., Carlson, R.P., Heys, J., Beck, A.E., Gedeon, T. (2019) Role of resource allocation and transport in emergence of cross-feeding in microbial consortia. Journal of Theoretical Biology. 467, 150-163.
Dr. Carlson's CV
Additional biofilm related publications searchable via the CBE Publications Database
Related News
MSU News Service July 15, 2022 "Montana State researchers collaborate with Nature's Fynd to send microbe to space to test as astronaut food"
MSU News Service January 18, 2022 "MSU researchers seek to optimize algae biomaterials production"
MSU News Service September 27, 2021 "MSU receives $3 million for graduate research"
MSU News Service February 12, 2019 "MSU algae research could make biofuel production more economical"
MSU News Service October 18, 2017 "MSU researchers receive $1.8 million to study methane-converting microbes"
MSU News Service October 25, 2016 "MSU engineering professor awarded U.S. Army Research Office grant"