Special Invitation
Biofilm Science & Technology Meetings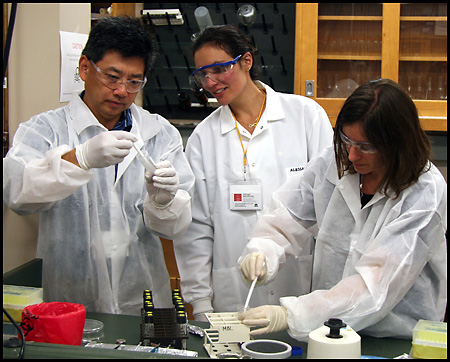 Partnership with the CBE offers direct access to emerging advances in biofilm science and technology. We host two key conferences each year. Our regulatory pathways meeting in February facilitates dialogue between industry and government regulators about product development and regulatory guidelines. Each July, we showcase our latest research advancements at the Montana Biofilm Meeting in Bozeman. Members are eligible to participate in, at no charge, our biofilm methods workshop held at this meeting.
Meetings are open to all members and CBE research collaborators (non-member companies may visit once to preview the Industrial Associate program).
The meeting agendas include:
Our Montana Science and Technology Meeting provides detailed, up-to-date, reporting of CBE projects and research strategy (specific industry sponsored projects may be excluded depending on the status of the project). Reporting includes written summaries, posters and presentations on the research.
Our regulatory pathways meeting provides an opportunity for representatives from industry, academia, and government agencies to present relevant research and understand each other's perspectives. The meeting is organized in a presentation and discussion format to highlight both challenges and opportunities in the development of antibiofilm technologies relevant to medical devices and products impacting public health. More about CBE regulatory pathways meeting
Opportunities for the Industrial Associate members to provide written and oral guidance on the CBE research, education and industrial programs.
Opportunities for in-depth one-on-one or small group meetings with CBE researchers and students to focus on specific research, application and educational needs of the Industrial Associate.
Workshops on CBE biofilm analytical methods. Workshops include hands-on laboratory instruction as well as presentations and materials.
For more information, contact Paul Sturman paul_s@montana.edu (406) 994-2102
Meetings
2023 Biofilm Science and Technology Meetings
Anti-Biofilm Technologies: Pathways to Product Development Meeting


February 7–8, 2023
In-person at the Hilton Arlington National Landing Hotel, Arlington, VA

If you are interested in membership and would like to attend this meeting, please contact Paul Sturman, CBE Industrial Coordinator.
Montana Biofilm Meeting
July 11–13, 2023
Bozeman, MT
In-person meeting for CBE Industrial Members and invited guests at the Hilton Garden Inn Bozeman and,
hands-on methods workshop for Industrial Members at CBE labs Mon., July 10
2022 Biofilm Science and Technology Meetings
Montana Biofilm Meeting
July 12–14, 2022
Bozeman, MT
In-person meeting for CBE Industrial Members and invited guests at the Hilton Garden Inn In Bozeman and,
Biofilm Basics hands-on workshop for Industrial Members at CBE labs Mon., July 11
Anti-Biofilm Technologies: Pathways to Product Development (hybrid) Meeting
February 1–2, 2022
Crystal City Marriott in Arlington, VA
2021 Biofilm Science and Technology Meetings

Montana Biofilm (virtual) Meeting
July 13–15, 2021
Virtual meeting featuring an open house, panel discussion on the biofilm matrix, and member strategic planning meeting
Pathways to Product Development (virtual) Meeting
Feb. 1–3, 2021
Stats Workshop & Poster Session, Feb. 1
Meeting, Feb. 2–3
2020 Biofilm Science and Technology Meetings
Montana Biofilm (virtual) Meeting
July 14–16, 2020
Pathways to Product Development
February 4–5, 2020
Hyatt Regency Crystal City, Arlington, VA
Contact
Paul Sturman, PhD, PE
Industrial Coordinator
Email
Ph: (406) 994-2102