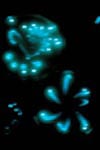 The second Bioglyph collaborative project was an art installation in a darkened room in the O'Malley Library on the campus of Manhattan College in Riverdale, New York, December 6-10, 2002.
Background

MSU Bozeman Bioglyphs project directors Betsey Pitts, Sara Mast and Peg Dirckx planned the New York project in collaboration with former Center for Biofilm Engineering doctoral graduate Dr. Robert Sharp, now Associate Professor of Environmental Engineering at Manhattan College.
Long-distance collaboration proved to be challenging, especially in light of the fact that the number of Petri dishes prepared for this installation was double the number used in the first Bioglyphs exhibition. The three MSU Bozeman participants were joined by artist Terry Karson of Bozeman, Montana, and twelve Manhattan College engineering students to create and install the Bioglyphs.
The "painting" took place on a very snowy Thursday, December 4th. In a laboratory organized by graduate student Margo Adgie and stocked with hundreds of prepared Petri dishes, the engineering students were given instruction and marking tools provided by the project directors. Participants worked in groups of 2 or 3 to create bioluminescent designs on the plates.
A single installation was conceived for the room in O'Malley Library, taking advantage of arches built into the walls in the high-ceilinged room. One arch, approximately 9 feet high by 5 feet wide, was completely filled with Bioglyph plates; the second arch was outlined by Bioglyphs. The two arches were visually connected by a series of glowing stacks of dishes running along 3 walls of the room. In the darkened gallery, the only light available to view the art was that produced by the bacteria themselves. Over the five-day period, the light intensity of the paintings changed as the bacteria multiplied and then gradually consumed the nutrient available.
© 2002-2003 MSU Bozeman Bioglyphs Project, a collaboration co-created by the Montana State University Bozeman School of Art, the Center for Biofilm Engineering, and billions of bioluminescent bacteria.